Tier 1
Examine the phone.
Find the hidden keypad.

Covered in dirt under a bush just outside the church, just like the text message on the phone said.

295.3 434.9 y 144.3 3030

.

Enter the code and forward the footage to HQ.
Hint… 
The message on the phone gives a hint on what the code is: "the first song he planned to sing on Sunday."
Hint… 
For some people Sunday is church day.
Hint… 
The list of songs (psalm numbers) going to be sung is written on the blackboard inside the church.
Solution 
The code is 576.
Video Guide
Edit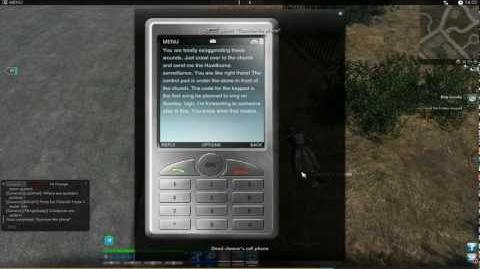 Ad blocker interference detected!
Wikia is a free-to-use site that makes money from advertising. We have a modified experience for viewers using ad blockers

Wikia is not accessible if you've made further modifications. Remove the custom ad blocker rule(s) and the page will load as expected.